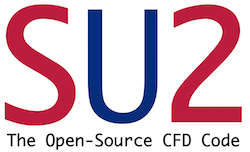 2nd Annual SU2 Developers Meeting
December 18, 2017
Stanford University
As an open-source project, we know that the community surrounding SU2 is critical to our success, and developers are the beating heart of it. Today, that community numbers in the thousands of users and hundreds of developers. For the second year in a row, we're gathering some of the most active development teams from around the world in one place to showcase the latest in SU2, and you're invited.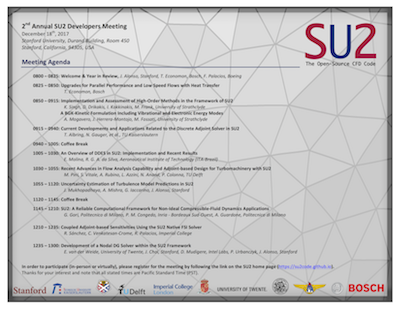 Click the image to see the agenda.



Check out the agenda above, and should you wish to join (physically or virtually), please register for the meeting by following the link below. Follow-up emails with further instructions will be sent to registrants before the meeting.
6 and counting on you.
We've been hard at work on SU2 v6.0 for early 2018: our 6th major release in 6 years and the best yet. If you want to change the world through simulation-based design, join us in developing the next great release. You will:
Always have access to the source code.
Be part of an active, international development team.
Accelerate your research by not starting from scratch.
Thrive in a large, supportive, open-source community.
Garner extra visibility for your research.
Leave your mark on SU2 and open-source software.
Join the development team on GitHub by watching the repository, forking the code, submitting issues, or contributing code through Pull Requests. We're always looking for talent and passion!