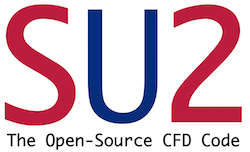 Thank you for your interest in the 2nd Annual SU2 Developers Meeting on Dec 18, 2017 8:00 AM - 1:00 PM PST. Below, you will find important information regarding how to join the virtual meeting through GoToWebinar and/or how to join the meeting in person at Stanford. All of the presentation slides will be posted prior to the meeting. Please check the SU2 project page for the latest updates and links.
Information for Remote Attendees
To join the 2nd Annual SU2 Developers Meeting webcast as a remote attendee, please follow the directions provided in the following link (click the button) and check your email where a link to join the webcast may be sent.
After registering, you will receive a confirmation email containing information about joining the webinar.
Information for In-Person Attendees
Directions to the Durand Building
The Durand Building is located in the Stanford campus at 496 Lomita Mall and you can see a Google Map here. The meeting will take place in the Nicholas Hoff Conference Room, Durand 450. Simply take the elevators to the 4th floor of the building, and the conference room will be right in front of you.
Parking Instructions
If you are driving, the closest parking lot to the Durand building is just a 3-4 min. walk away and located here. It is an underground parking lot accessible from Via Ortega (between Panama St and Santa Teresa St): just drive to the first underground level, find a visitor parking spot and pay at the machine for as long as you will stay on campus. Please note that parking is free on campus after 4pm, so you only need to add time/money to the machine until 4pm.
Other Useful Information
Stanford is a large university campus with many interesting places to visit. You can find some facts about the University here. There is also information about visiting the campus here. You will be arriving after classes and final exams have ended for the Fall Quarter, but there will be plenty of people around that you can ask for tips and directions. There is a useful campus map here that you may want to bookmark. Some additional notes:
If you have any issues participating in the meeting, please contact us: